Psychological First Aid – World Mental Health Day Theme 2016!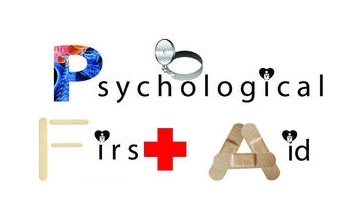 PSYCHOLOGICAL FIRST AID:
GOOD COMMUNICATION:
THINGS TO SAY & DO
1. Try to find a calm place, free of distractions to talk to.
2. Be patient & calm.
3. Show that you are listening – nod and make eye contact.
4. Stay close, but keep a comfortable distance as a person who has undergone a recent traumatic experience may feel threatened.
5. Provide correct & factual information. If the information is not available – 'admit & assure to find it out as soon as possible'
6. Give information in the simplest way possible.
7. Acknowledge his pain & suffering.
8. Acknowledge his strengths & capabilities
9. respect their privacy, maintain confidentiality.
PSYCHOLOGICAL FIRST AID:
GOOD COMMUNICATION:
THINGS NOT TO SAY & DO
1.Do not pressurize for information.
2. Do not interrupt o rush someone's story.
3. Don't give your opinions of the person's situation
4. Don't judge what they have or haven't done- don't say-"you are lucky to have survived…"
5. Don't tell someone else's story
6. Don't tell about your own troubles.
7. Don't make false promises.
8. Don't feel you have to solve all the person's problems.
9. Don't take away their sense of capability and strength.